About Us
If flying is your passion and you love a serene countryside, safe community, and friendly, welcoming neighbors, you've come to the right place. Piney Creek Air Park developers, Joe Greenwell, a retired deputy sheriff, and his brother Jeff Greenwell, a businessman from Texas, both share a life-long passion for flying.

During their visits to countless communities throughout Florida, North Carolina, Georgia and Eastern Tennessee, they found the Cumberland Plateau to be one of the most beautiful and conducive to the development of an affordable residential airpark community. They found the area around Altamont to be an ideal location offering the amenities of a small town together with the conveniences of larger cities less than an hour away. Chattanooga is 55 miles to the south and Nashville 80 miles to the north. In between is some of the most beautiful country in the United States.

Airstrip
The key feature of the airpark is a 3,000 foot long by 50 foot wide paved private runway centered in a 4,000 foot long by 200 foot wide clearing. The runway was completed in the summer of 2008. Phase III of the development will include hangar facilities at the west end of the runway.
Home Sites
Development plans include natural wooded home sites ranging in size from 2+ to 6+ acres. These beautiful, oversized home sites surround the runway, with direct and indirect access to the airstrip.

Homes within the community will be constructed of natural elements, wood logs and stone, and will blend harmoniously with the incredible beauty of the Cumberland Plateau.
An Affordable Airpark Development
We offer competitive lot pricing in an area with low property taxes, a low cost of living and no state income tax. All this combined with the natural beauty of our area make Piney Creek Airpark the ideal place to call home. If you enjoy flying, privacy and the backwoods of Tennessee, you'll like what you see at Piney Creek Airpark.
Runway looking east Runway looking west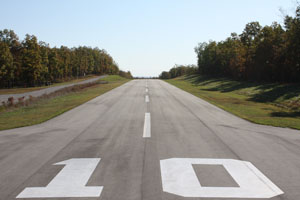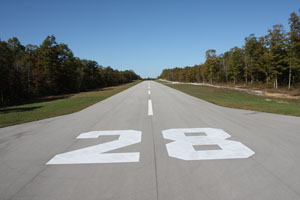 See local maps and directions to Piney Creek Airpark.

A Master Plan of the development is now online, you can see the plat here.
If you would like one of our brochures, you can get it here.