News
September 20, 2016
We have some beautiful fall weather here on the Cumberland Plateau. Check out this gorgeous rainbow!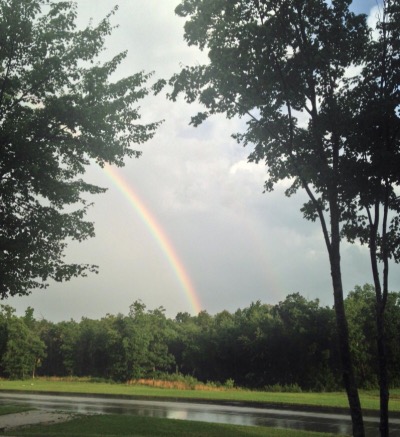 February 9, 2016
Our winter pricing special is continuing - 40% OFF ALL PHASE 2 LOTS!. Don't miss this opportunity to own one of our beautiful, wooded off-runway lots at deeply discounted pricing! Check out our pricing
here
and available lots
here
.
January 20, 2016
It's a beautiful winter day, here in middle Tennessee!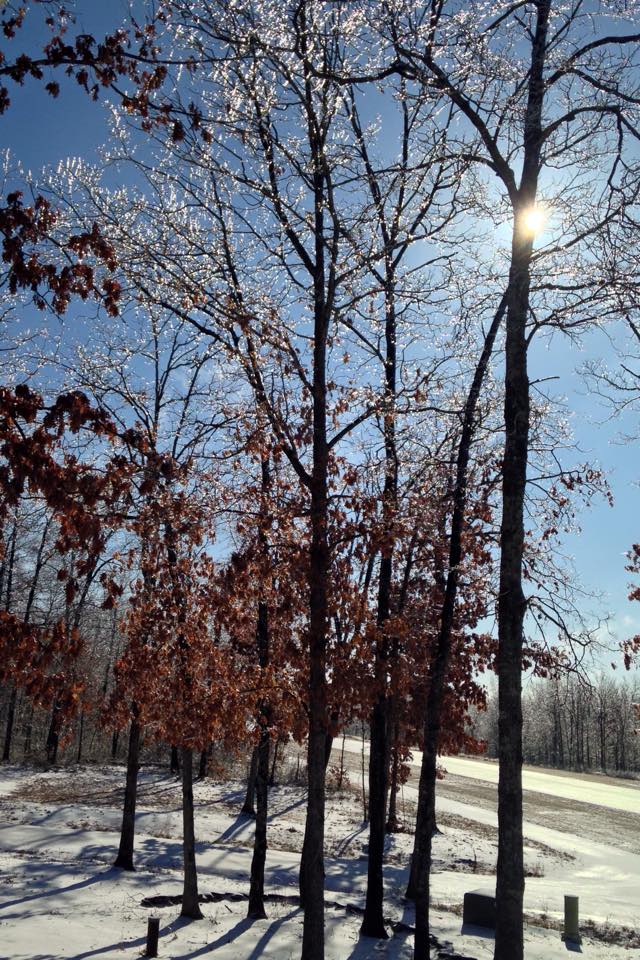 October 30, 2015
Our brochure is now available online! Get it
here
.
October 7, 2015
JUST ANNOUNCED - 40% OFF ALL PHASE 2 LOTS!! For a limited time, we are offering deeply discounted pricing on all our Phase 2 lots. These beautiful wooded lots range in size from 2 - 5+ acres. We also have very competitive pricing on our Phase I runway lots. See pricing and available lots .

We have some great resources to recommend for home construction. Call us for details.
July 14, 2015
The airpark enjoyed a great visit from the Lakeland Aero Club, a high school flying club based out of Lakeland. FL. The group has restored a 1953 L-18C Super Cub, and they were on their way to EAA AirVenture in Oshkosh, WI. These young pilots and soon-to-be pilots, celebrities in their own right, are inspiring a new generation of pilots and aircraft owners. They stayed overnight, and enjoyed a variety of activities at the airpark, including riding ATVs and skeet shooting, followed by a BBQ cookout. Many thanks to Wayne Harris for coordinating this event!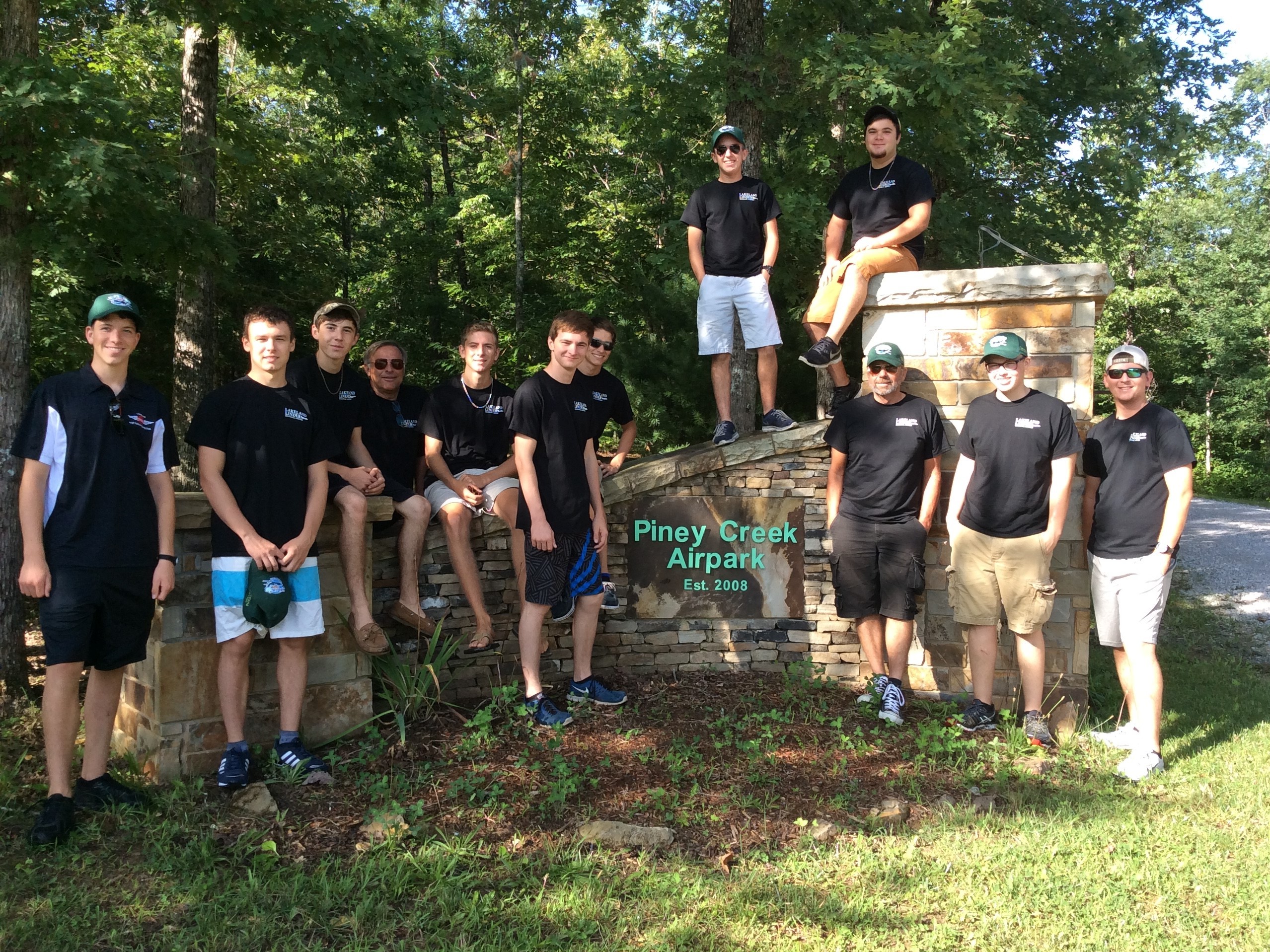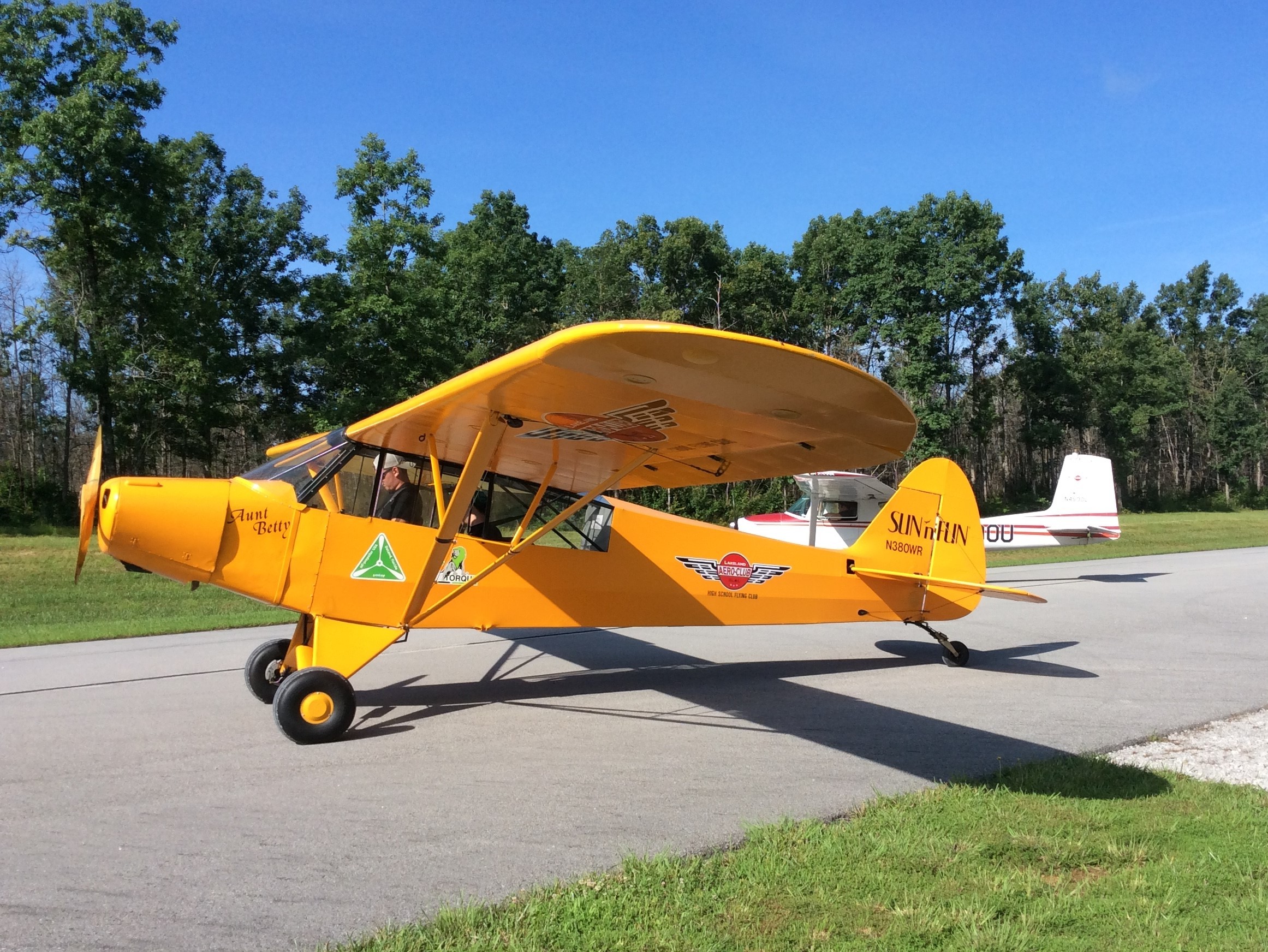 November 4, 2013
JUST ANNOUNCED - 40% OFF ALL PHASE II LOTS!! We are running a fantastic pricing special on all our Phase II lots through the end of the year. These lots range in size from 2 - 6+ acres. We also have very competitive pricing on our Phase I runway lots. See our Home Sites tab above for lot pricing and the available lots.

We have some great resources to recommend for home construction. Call us for details.

September 10, 2012
We have started clearing the East Phase II road, and we've had beautiful flying weather up here!

October 5, 2011
We invite you to join us for an open house fly-in on Saturday October 15. Property tours start at 10:00am, and a BBQ dinner will be served starting at 1:00pm. There will be house and hangar tours, and for the adventurous types, ATVs will be on hand as well. We plan to have representatives from a mortgage lender and a local log home manufacturer/builder available to answer any questions on financing and home construction. It promises to be a great time in the crisp fall weather. We hope to see you there!

July 25, 2011
What a great summer we are enjoying at Piney Creek Airpark! We have just completed some major road improvements that we started in the spring, along the main road from the front gate all the way to the ends of the east and west runway access roads, bringing them from construction grade to a nice flat final grade. We've added an off-ramp on the east end of the runway, as well as enlarged and improved the mid-field off-ramp.

We've also completed a major hydro-mulch seeding project all along the runway and at both the east and west ends, with the result that we are enjoying a beautiful lush green along the entire runway area.

December 13, 2010
Check out the new homesites we have added in Phase 2! While all of our oversized lots are very competitively priced, we know some owners may be looking for an even more affordable option. That's why we have opened up some off-runway lots in various sizes, from about 2 1/2 to 6 acres. These beautiful wooded homesites, with runway access, carry a lower per-acre cost, and some may find they prefer being part of our lovely aviation community while living a little further from the "action" of the runway. Plan to visit during the holidays, and get a glimpse of our gorgeous winter on the Cumberland Plateau.

September 15, 2010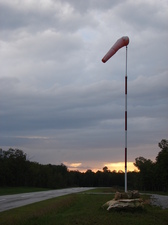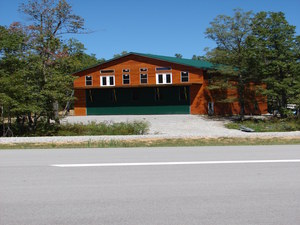 Late summer evening on New hangar home nearly complete on Lot 9
the runway

August 29, 2009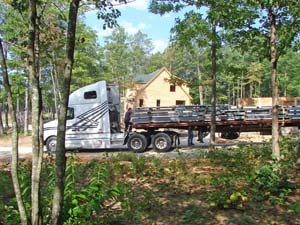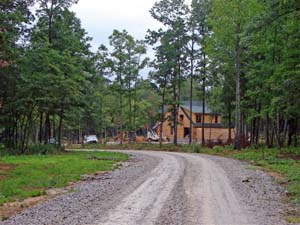 Delivery of new hangar for construction on View of new owner's house being constructed on
Lot 5 Lot 5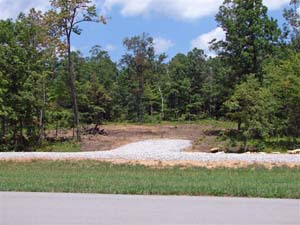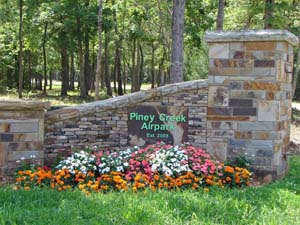 New owner of Lot 9 beginning construction of Here's a good shot of the front entrance
hangar home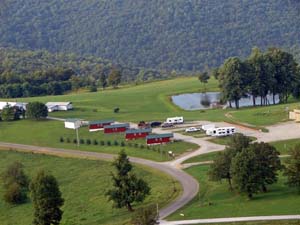 Overnight accommodations available nearby at
Grandview Cabins and RV Park
grandviewtn.tripod.com

August 22, 2009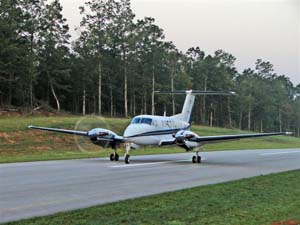 Early morning visitor in to see the airpark

November 21, 2008
We are enjoying some beautiful fall weather here on the Tennessee Cumberland Plateau!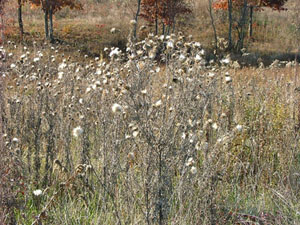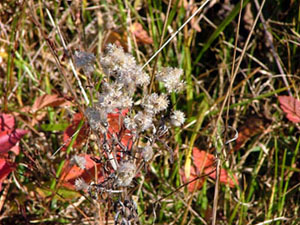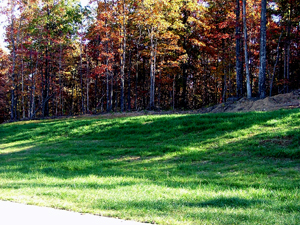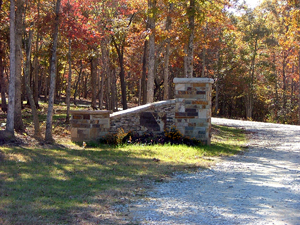 September 1, 2008
Here are some shots of the runway numbers. You can see the new grass starting to come in! We'll add some updated arial shots when we have them.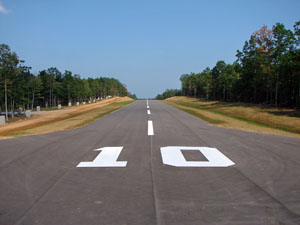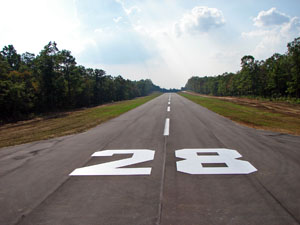 Looking east Looking west

August 25, 2008
We have the runway striping done!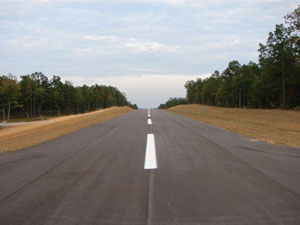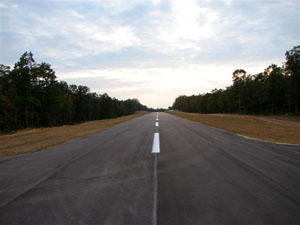 August 10, 2008
We've completed the final grooming on the skirt surrounding the runway, and we planted grass this week. We'll post more photos when the grass comes in. We're hoping to have runway numbers soon! We're cleaning up all around the remaining Phase I lots, and have plans over the next couple of months for landscaping and additional surveys for some back lots. There's a lot going on!

July 4, 2008
The runway is now complete, and we've been landing planes for a month now. We've been busy grooming the skirt surrounding the runway. Along with a family fly in, we had several guests fly in this week to look at the property.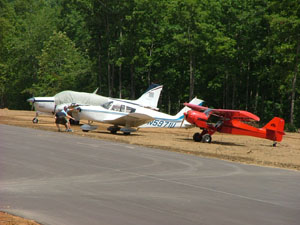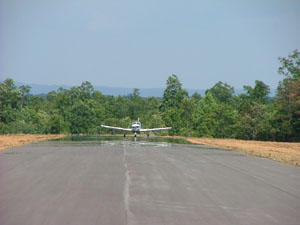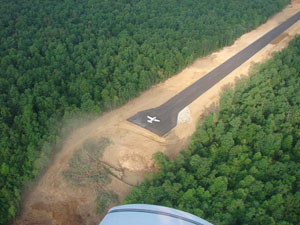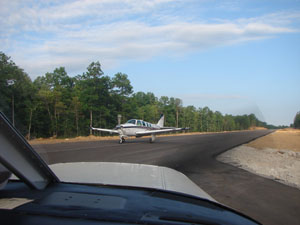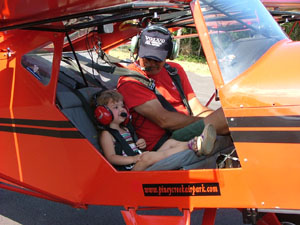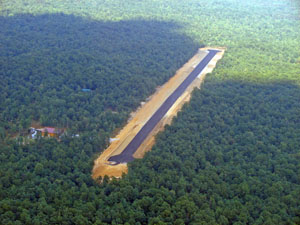 April 10, 2008
The airstrip is nearly complete! The final layer will be paved Friday, and it should be ready for landing within a couple of weeks. We'll put up new photos as soon as we have some, and let you know as soon as it is available for landing.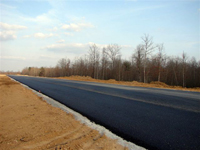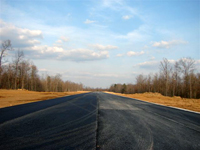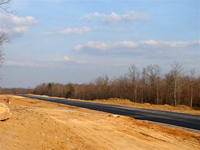 March 31, 2008
We will be attending the Sun-n-Fun Fly-In from April 7th to April 13th. Click here for more information. The Sun 'n Fun Fly-In has been promoting aviation safety through education for more than 29 years. This event has grown to become the second largest aviation convention of its kind. There is something here for everyone. Come visit us at Booth E-25.
Underground electric utilities and fiber optic cables were laid in early May.

The main entrance road is in great shape.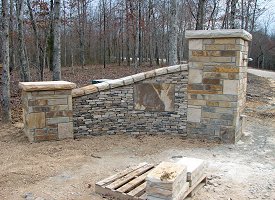 During the process of the final grading of the runway, which is now almost complete, we discovered a HUGE rock shelf that required extensive blasting in order to bring the runway to grade.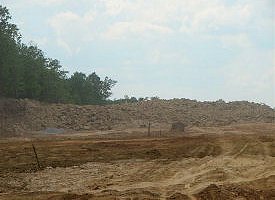 It took more than a few cases of dynamite to prepare the rock for excavation.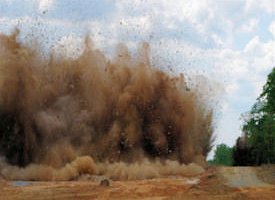 When the dust settled we went back into the area to look at our progress.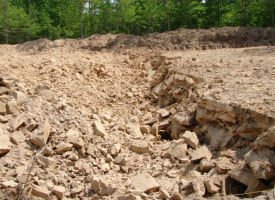 Runway Grading Making Big Progress
Several weeks of drier than normal weather have resulted in some great progress on getting the runway ready for pavement.

May 31, 2007
See some great aerial shots of the progress on grading the runway to prepare for paving and also a couple of aerial views of Stone Door in the South Cumberland State Recreation Area.