Community
Experiencing small town Tennessee on the Cumberland Plateau is like turning back the hands of time. Altamont, the picturesque county seat of Grundy County, is family oriented and serene, filled with friendly, welcoming people.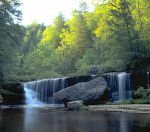 Within five miles of Piney Creek Airpark is Middle Tennessee wilderness at its best. The South Cumberland State Recreation Area encompasses over 16,000 acres of spectacular bluffs like the Great Stone Door, dozens of waterfalls and over 70 miles of hiking and backpacking trails. Within the park, Savage Gulf has more than 700 acres of old growth forest and some of the most ancient trees in the Eastern United States.
A local natural phenomenon...aka "The Hole"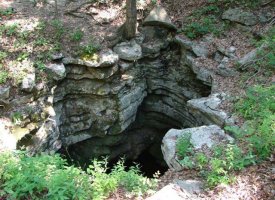 The area around Piney Creek Airpark is rich with history and tradition. The small town of Beersheba Springs is a National Historic District with buildings like the old Beersheba Springs Hotel which was a summer retreat for well-to-do families in the 1800's. The Monteagle Sunday School Assembly has dozens of homes built in the 19th century.

The University of the South in Sewanee was founded before the Civil War as an alternative to Ivy League schools for the children of Southern gentry. The campus has the look and feel of a quaint English village and the school is ranked among the best liberal arts colleges in the USA.

From the air or from the ground, Piney Creek Airpark is a very special place. Come see for yourself.

N 35°25.476 W 85°46.764